Give the gift of peace of mind with the Disaster Playbook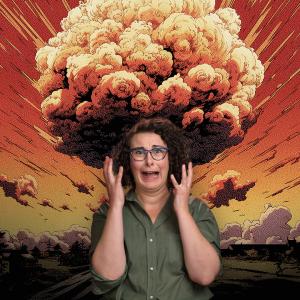 Jennifer Heller, Creator of Here Comes the Apocalypse
The world is going to shit faster than we can shovel it. Here Comes the Apocalypse's Disaster Playbook breaks down disaster prep into digestible chunks.
If these tools and the silly comics make even one family more prepared when the next disaster strikes, I will have succeeded."
— Jennifer Heller
OAKLAND, CA, US, November 9, 2023 /EINPresswire.com/ — In recent years, families hoping to reduce their impact on the environment and focus less on materialism have been changing their holiday gifting habits. More people are giving:
– More practical items
– Experience gifts
– Group travel
– Donations to charities
– A reduced quantity of gifts in general
Choosing practical gifts often means giving disaster preparedness items, but the director of FEMA's Ready Campaign, Lea Crager, emphasizes that planning takes precedence when it comes to being prepared for disasters: "You spend a certain amount of money on a kit, you think you're ready, but have you ever taken everything out? Does everyone (in the household) know what to do with what's in it? It really comes down to making those plans."
In an effort to make the disaster planning process more engaging and increase the number of households making plans (rather than merely gathering supplies), Oakland start-up Here Comes the Apocalypse has created a system that emphasizes planning, gathering gear, and drilling so users who complete the program have comprehensive disaster plans when they're done. As both an experience gift and a practical gift, it's a good choice for anyone hoping to cut down on waste and increase family interaction during the holiday season.
Founder Jennifer Heller wrote the Disaster Playbook because she wanted to prepare her family for unexpected disasters, but found the existing resources too boring to stomach. "I would go to government websites and get overwhelmed and confused. I knew I couldn't be the only one who was puzzled by the process. I've always had a dark sense of humor. I figured — why not mix the macabre with the practical?"
Keeping users engaged with jokes, activities, and beautiful graphics is key to the success of the system. HCTA aims to put users in a good mood while they strategize their way out of the apocalypse. People creating disaster plans are much more likely to follow through if they enjoy the process. Heller adds, "Gear is a major component of disaster prep, but really thriving in a disaster requires planning and rehearsing how you'll react when things get bad. Knowledge is power!"
Learn more about the Disaster Playbook and its accompanying tools to take your loved ones' prep to the next level this holiday season at www.herecomestheapocalypse.com or on social media @helloapocalypse today.
Jennifer Heller
Artsy Geek
+1 510-852-9873
email us here
Visit us on social media:
Facebook
Instagram


Originally published at https://www.einpresswire.com/article/666911367/emergency-preparedness-gifts-increase-everyone-s-resilience