'The Modern Couple's Guide to Wedding Speeches' book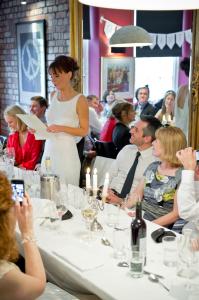 Heidi Giving Her Bride's Speech
Introducing 'The Modern Couple's Guide To Wedding Speeches' by Heidi Ellert-McDermott
'A wedding speech shouldn't be a dreaded duty but an opportunity to create a wedding day highlight! It's time to say no to the Goggled-gags, cheesy clichés, and the same old sexist speaker line-up.'"
— Heidi Ellert-McDermott, founder of Speechy
BRISTOL , GLOUCESTERSHIRE, UNITED KINGDOM, October 26, 2023 /EINPresswire.com/ — As we enter peak wedding season, speech writer Heidi Ellert-McDermott, founder of the bespoke wedding speechwriting business Speechy, is helping couples step away from old-fashioned, outdated wedding speeches and wow their guests with a better class of speech.
Her book 'The Modern Couple's Guide to Wedding Speeches' has already helped couples around the world write a better class of wedding speech by ditching cheesy cliches, old-fashioned etiquette and the dreaded Googled-gags.
Published in Australia by Little, Brown for $22.99, she says this speech guide is long overdue.
"The days when the speech was just put in the hands of a best man and a father of the bride and the groom are gone. It's okay for a bride, a mother of the bride, or the maid of honour to give a speech, and obviously, at same-sex weddings, for two brides or two grooms to grab the mic. The traditional rule book can be ripped up."
Heidi wrote her book after realising that most wedding speech books were hopelessly out of date and did not reflect the modern wedding. This book is aimed at grooms and brides, straight or gay; recognising the diversity of modern couples and the blended families that make up the guestlist.
The book tears up the old-school speech traditions and includes speech examples written by professional speechwriters, TV scriptwriters and comedians at the top of their game. It also includes advice from globally renowned wedding influencers and wedding planners.
Advice includes

– Why couples should reconsider the traditional father, groom and best man speaker lineup, and everyone from the mother of the groom, to the sister of the bride should be considered

– Why gifts should never be given during the speeches

– How to avoid Googled-gags and cheesy jokes, and create original humour

– Why no wedding speech should contain a PowerPoint presentation

– Why speakers should avoid reading from their mobiles or tech

– Who doesn't need to be thanked in a modern wedding speech

– Why adjectives like 'beautiful' and 'soulmate' should be banned and how to create genuinely meaningful content

– Why every wedding speech needs to be less than ten minutes

– Why couples should consider giving a joint wedding speech; a wedding trend that's set to stay
Before setting up Speechy, Heidi was a TV director/writer/producer for over 15 years, working on a range of entertainment and comedy programmes and working with well-known names such as Richard Hammond & Sharon Osbourne. She set up Speechy in 2015 after delivering a bride speech at her own wedding that got more compliments than her dress! "That was my lightbulb moment when it came to my business!", she says.
Heidi recruited a team of TV scriptwriters and comedians to join her wedding speech revolution using her media and TV contacts. Now, couples around the world utilise the writing talent of her ghostwriting team, taking full credit for their wit.
The Speechy team are based in the UK but they've developed a global clientele and have received significant media coverage– including The New York Times, Observer, Daily Mail, The Telegraph, Metro, Women's Hour, The Times and even The Drew Barrymore Show. Most recently, she Heidi featured on BBC Sound's Best Men podcast (with comedians Jason Manford and Steve Edge).
ENDS.
EDITOR'S NOTES:

*FURTHER PHOTOS AVAILABLE – including book imagery, wedding imagery etc

*FURTHER WEDDING SPEECH STATS & TRENDS AVAILABLE

* HEIDI IS READY TO TALK TO THE MEDIA and can talk about:

• THE RISE OF THE WEDDING SPEECHWRITER – Why more people are turning to ghostwriters to write their wedding speeches. Speechy's biggest markets are the US, UK, Australia, Canada and South Africa.

• DUMB BRIDES – Why women still aren't taking the opportunity to speak in public.

• THE POWER OF THE SPOKEN WORLD IN A DIGITAL WORLD – Why face-to-face communication has become more important in a digital world

• REAL ROMANCE – How to be romantic without being cheesy

• WHY BEING FUNNY MATTERS – Why being funny can help you achieve more
Website: https://www.speechy.com/

Contact Email: [email protected]

Contact Phone: (+44) 7971 225 245
Heidi Ellert-McDermott
Speechy
+44 7971 225245
email us here
Visit us on social media:
Instagram
YouTube
Speechy's Wedding Speech Book – The Modern Couple's Guide to Wedding Speeches


Originally published at https://www.einpresswire.com/article/664041171/the-new-wedding-speech-rules-have-been-published